Gemstar Machine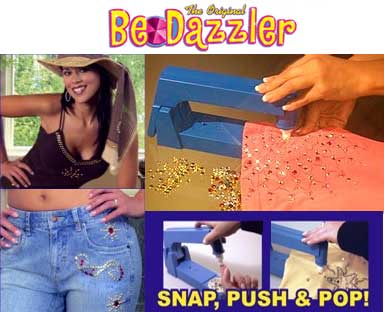 The Gemstar is back again and it's the fashion craze of the season. Even if you've never threaded a needle, you'll be Gemstaring in minutes. You can Gemstar a hat, a shirt, a belt, a scarf or a sweater! It's easy. It's fun. It's fabulous! You get the original Gemstar plus all the rhinestones, studs and stars you'll need!
The Gemstar gives you everything you need to light up your wardrobe from head to toe. It's easy to use, fun and fabulous. Just snap, push and pop and you can save hundreds of dollars by adding your own rhinestones and studs to your wardrobe.

Brighten up your wardrobe today with the fantastic Gemstar. The Gemstar machine is the hottest craft item in America today. You will get approx 100 brilliant rhinestones and gleaming studs that you can easily add to virtually anything.
Gemstar Includes: